Maramures is a unique place, with special landscapes, nature and traditions. If you wonder where to stay in Maramures, you'd better know that this region has many accommodation options that can offer you a traditional experience. That is why is a popular choice among those who want to discover unspoiled regions in Europe or to spend an authentic, white Christmas.
But all year long, the region in the north of the country remains one of the most beautiful places to explore in Romania.
Read also: Maramures travel: Top places to visit in Maramures Romania
Once here, it is important to choose your accommodation in Maramures carefully to make sure you have a successful holiday. That's why I have prepared below a list of the most beautiful guesthouses in Maramures so you can choose the one that is right for you.
Traditional accommodation in Maramures
If you are passionate about nature and beauty, choose to stay in traditional B&Bs in Maramures, guesthouses that have a special charm, authentic and that entice you with delicious traditional goodies and comfort.
Looking for a private tour in Maramures?
Check our Romania Grand tour that includes also Maramures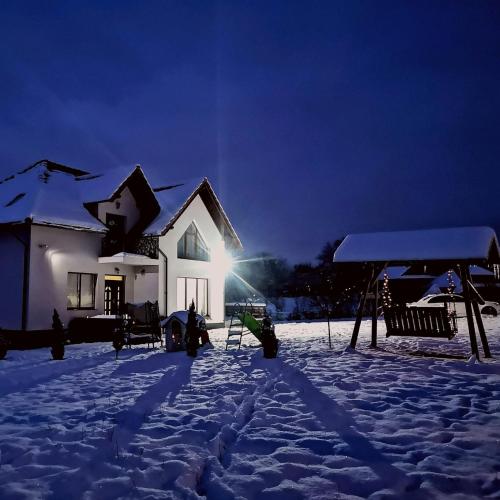 One of the most beautiful rustic guesthouses in Maramures is Agropensiunea La Bunici. It is located in the village of Carpinis and offers accommodation units overlooking the garden and a terrace.
In order to delight their clients with special accommodation in Maramures, the owners of the agro-pension have equipped and furnished the modern rooms and bathrooms. Thus, you can enjoy all the comfort you need. The farmhouse has double rooms for two or three persons, with a private bathroom, balcony or terrace. It is an ideal location for those travelling as a couple.
"La bunici" is 13 km away from Baia Mare and Cavnic, and as the main tourist attractions in the area, you can visit the Wooden Church in Carpinis and the Wooden Church in Surdesti.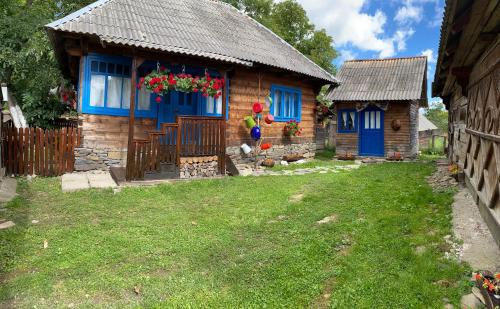 The guesthouses in Breb Maramures are a suitable choice for a rural holiday. Tivadar House in Breb is one of the most charming chalets in Maramures. You can stay here for a truly authentic experience.
The location retains the old charm of the region, but at the same time offers modern facilities that you can not do without a private bathroom with a shower and toilet, refrigerator and even coffee or tea maker.
It also offers a garden where you can spend mornings and evenings, along with a cup of hot tea or coffee. The house has double rooms with twin or double beds.
Tivadar House is located closest to Sighetul Marmatiei, only 21 km and 26 km from Baia Mare.
Read also: Top 10 tourist attractions in Romania recommended by travel bloggers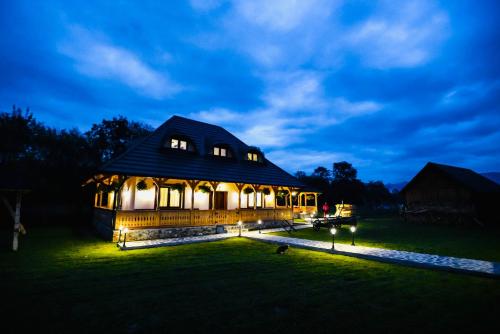 When the old and the new combine, it results in the most beautiful guesthouse in Maramures. Casa Morosanului is located in a wonderful and quiet location, at the edge of the forest, in Viseul de Sus. Its garden and terrace offer a wonderful view of the Maramures Mountains.
The equipped rooms, private bathroom, free Wi-Fi, private parking, gazebo, tub, barbecue, but also playground for children, make Casa Morosanului the right choice for a dream stay.
If you want to take a steam train ride (Mocanita in Maramures), you can stay at Casa Morosanului to be close to the train departure point. Also in the area, you will find the famous Horse Waterfall.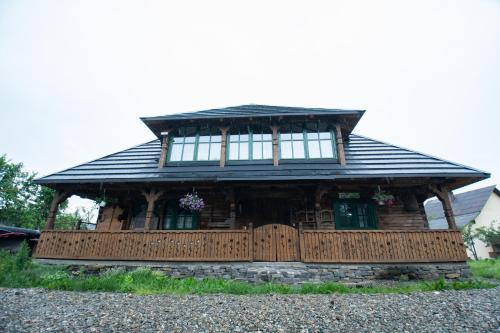 Taul Zanelor B&B from Viseu de Sus is one of the famous wooden houses in Maramures transformed into a pension. The old house in Maramures style has four rooms, equipped with fully equipped bathrooms, TV in each room, living room and terrace.
You can choose a double or triple room, decorated in a rustic style combined with a modern one. It doesn't have Wi-Fi, but you can turn this into a vacation away from technology.
In the area you can go for a walk, you can explore the Maramures Mountains Natural Park, Vaser Valley or you can even try a paragliding flight.
The agrotourism pension Taul Zanelor from Maramures is located 47 km from Cavnic and 48 km from Sighetu Marmatiei and is the perfect choice for a few days spent in nature.
Special accommodation in Maramures
If you want to visit the area and have memorable experiences, you can choose special accommodation in Maramures. Most of the time the pensions themselves can be real tourist attractions.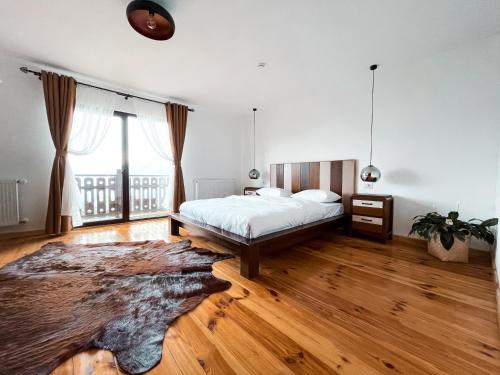 Panoramic Sus In Deal is a guesthouse in Maramures, Viseu de Jos, perfect for getaways away from the hustle and bustle of the city. It has double rooms, overlooking the outdoor garden or the mountains, fully equipped, private bathrooms, a shared kitchen, outdoor fireplace, picnic area, outdoor furniture, sun terrace, barbecue, terrace and garden.
For sports enthusiasts, the owners of the pension provide badminton and darts equipment. If you want to relax and completely forget about worries, the hot tub and the jacuzzi are a perfect choice.
Panoramic Sus In Deal is an option when you are looking for beautiful guesthouses in Maramures with a view. It is an oasis of peace in the middle of nature and, although it is only 400 m from the main road, it offers an extraordinary panorama over the Viseu de Sus.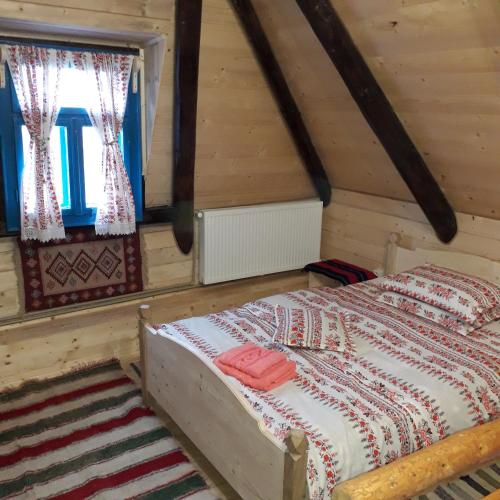 Casuta bunicilor or Grandparents' house in English is one of the dozens of guesthouses in Maramures and offers triple rooms, deluxe rooms with two queen-size beds, but also a house with two bedrooms, all with private bathrooms, suitable for both single couples or families with children.
It is located in a special area, being only 900 m away from the centre of Breb village and has a hot tub where you can relax after a day of walking with a tasty barbecue. The hosts offer hiking, music, tours of the local culture and even cooking classes for those who are passionate.
Located in Feresti, Sighetu-Marmatiei, Conacul Cosaului (Cosaului mansion) is in the top 10 guesthouses in Maramures, due to the multiple facilities offered. It has unbeatable prices, double rooms fully equipped with private bathrooms with everything you need, terrace, balcony, garden, barbecue, kettle or oven, but also a playground for the little ones.
The pension is located in a wonderful setting, with a special view, being surrounded by a river, where enthusiasts can fish. It is an ideal place for relaxation and activities with loved ones.
Read also: Top things to do in Maramures, Romania
Just 11.5 km away are the famous Barsana Monastery and the Maramures Village Museum 9.8 km away, well-known tourist attractions that you can visit during your stay at the Cosaului Mansion.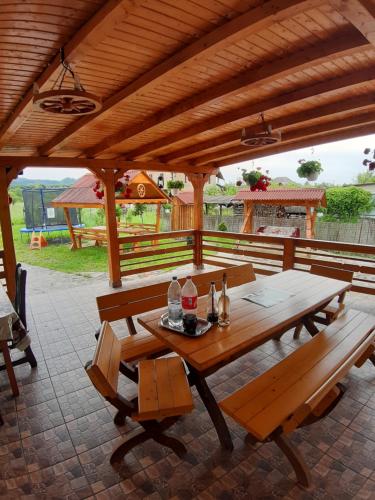 Those who need accommodation at boarding houses on the Iza Valley or are preparing for a ski holiday in Maramures can stay at the Adriana pension. It has direct access to the ski slope, being perfect to visit in winter.
Double or triple rooms, properly equipped, fully equipped bathrooms, outdoor fireplace, outdoor terrace, barbecue, but also the fact that you can rent complete ski equipment directly from the pension, make Adriana pension an excellent choice for a winter holiday in Maramures. It is a relaxing and welcoming place, with the best traditional food in the area.
In addition, it is one of the few boarding houses in Maramures with half board, which offers an extra advantage when you spend all day on the ski slope and in the evening you return hungry.
It is one of the most beautiful guesthouses in Borsa, Maramures. It offers accommodation with a shared lounge, perfect for relaxation, but also a shared kitchen where you can prepare delicious meals. It has double and triple rooms, fully equipped, with private bathrooms, TV and free Wi-Fi, a large garden with playground for children, but also a gazebo with barbecue.
The view towards the Pietrosul Rodna Peak offers a wonderful landscape, perfect for a welcome relaxation. The Cisla River and the Stiol and Iezer Lakes are suitable for meditation on the water's edge, and the Borsa chairlift, just 5 km away, offers you the fastest way to the Horse Waterfall.
Top guesthouses and hotels in Maramures
Those looking for more luxurious options can choose 4-star guesthouses in Maramures. In this category, there are some traditional locations, but also hotels with spas and pools. Some recommendations of such places can be found below.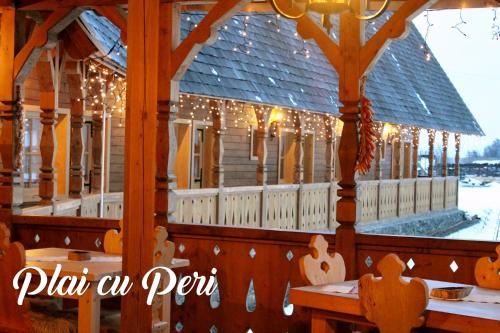 Located in Sapanta, just 700 m from the Merry Cemetery, Plai cu peri pension is perfect for a Christmas in Maramures. It has double or twin rooms with private bathrooms, deluxe or a suite with two bedrooms, overlooking the garden or mountain, an outdoor dining area, terrace, barbecue.
Due to the authentic decor, the relaxing atmosphere, the restaurant with traditional dishes, quality Romanian wines, the hikes and excursions offered, the bike rides, the Plai cu peri pension is a great choice for a perfect holiday.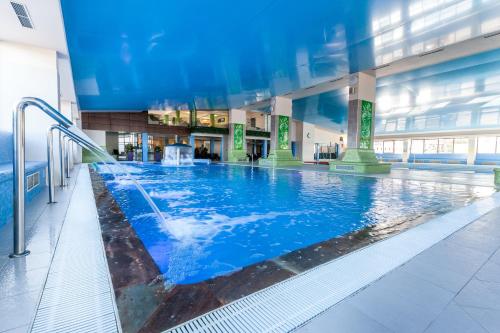 I have slipped a hotel in the list for those who prefer a business accommodation option in Maramures.
Located in Tautii Magherus, Primera Dru Hotel & Spa offers extraordinary accommodation with luxurious bathrooms, double rooms and a living area with office, minibar, bar and restaurant, transfer to and from the airport and facilities for business people, such as conference rooms and fax/copier.
The hotel has a spa centre suitable for those who need a spa vacation in Maramures. Here you can enjoy the sauna, hammam, steam bath and fitness room, but also massage services, for a fee.
It has an indoor pool open all year round and an outdoor one, both heated, jacuzzi, perfect for a dream relaxation, but also a water slide, for children's fun.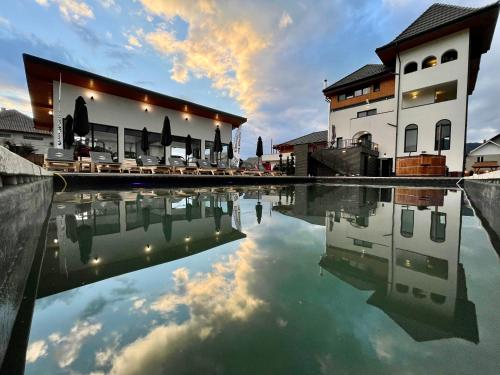 One of the luxury guesthouses in Maramures is Maramures Guesthouse (yes, that is its name!). This b&b in Viseu de Jos offers single or double rooms with mountain views, a common lounge perfect for relaxation, an outdoor swimming pool, heated, being one of the few guesthouses with a swimming pool in Maramures. If you want a more active stay, the hosts offer bike tours in the area.
The Guesthouse boasts exceptional architecture and interior decoration, and the good taste and refinement of the place combine perfectly with the hospitality of the hosts.
To discover the true beauty of Maramures means also to book special accommodation, where you would like to stay in the evening. This list of the most beautiful guesthouses in Maramures includes only a few suggestions. I am sure that there are many places in the area that you can choose to stay in and from which you can make trips in the whole region.
Note: This article contains affiliate links marked with *. If you decide to buy a product or a service from those links, I will receive a small commission without you to pay anything extra. This way you can support the blog without any cost. The decision to purchase from those links is entirely yours!
---