Preparing for a holiday on the Amalfi coast? Hotels with infinity pools are not that many here, but they can offer you the perfect combination between amazing views and relaxation. Below you can find a list of them, so you can choose which infinity pool hotel on the Amalfi coast suits you best.
Amalfi coast is best known for its breathtaking views, small towns built on the hill and a perfect sea. If you take all this and add a great hotel, you will get a holiday to remember for a lifetime! So, let's see what hotels you can book if you are an infinity pool addict.
Infinity pool hotels in Positano
The main features of Villa Fiorentino in Positano are its 2 heated infinity pools overlooking the Mediterranean Sea. One of them has even hydromassage functions. Villa Fiorentino offers elegant accommodations with a sea-view balcony and it is located 601 m from the beach in Positano.
You can book at Villa Fiorentino a room, a suite or an apartment if you want to stay in Positano with your family. For couples, the suite is the best choice, because it features its own swimming pool with a hot tub.
Covo Dei Saraceni is a seafront 5* hotel in Positano. Its main features are the air-conditioned rooms overlooking the Mediterranean Sea and the outdoor swimming pool equipped with sun umbrellas and lounge chairs.
Read also: Best things to do in Amalfi Town in one day
Its rooms are elegant and the bathrooms have a traditional design with Vietri ceramic tiles. The rooms have a balcony and a satellite flat-screen TV. Some suites have terraces, a spa tub and terracotta floors from Ogliara.
The hotel is near the beach, so it may be a great location if you want a relaxing holiday.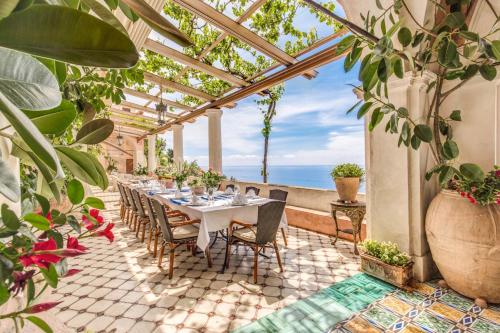 Another beautiful guesthouse with an infinity pool in Positano is the San Giacomo 3* villa. The villa features a seasonal outdoor swimming pool and a garden overlooking the sea. You can relax swimming in the pool or enjoying the scenery on the sun terrace.
The Villa San Giacomo is located in Positano, just an 11-minute walk from Positano Spiaggia.
The villa's architecture is stunning and the place amazes its guest with its breathtaking view. All rooms have a private bathroom, bathrobes and a bidet. The décor is gorgeous in all the rooms, with bright colours, stone and Italian motives that make you feel you are in Italy even when you lay in bed. All guest rooms at Villa San Giacomo have air conditioning and a closet.
You can enjoy a buffet or Italian breakfast on the terrace in the morning. The villa has also a family room with 2 beds for families who come to Positano.
Hotels with infinity pool in Amalfi
The Amalfi resort is located 500 m from Marina Grande Beach and has an infinity pool. Amalfi is a small, charming town that gives its name to the whole coast from Sorento to Salerno. If you choose to stay in Amalfi, you can visit its large cathedral of St. Andrew, go to the beach or explore its narrow streets.
The Amalfi resort is on the main street in the city- and has a garden, a patio and a sun terrace. A car rental service is also available here if you want to explore the region, but they also offer an airport shuttle from Naples.
Part of the NH Collection hotel chain, the NH Collection Grand Hotel Convento di Amalfi is a 5-star hotel in Amalfi located on a cliff. It is actually a converted 13th-century monastery, hence the name, and they've kept the original structures that date back thousands of years ago.
Probably the best hotel with an infinity pool in Amalfi, the NH Collection Grand Hotel Convento di Amalfi invites its guests to admire the Mediterranean Sea while relaxing in the pool. In winter, a heated swimming pool is available too.
All rooms have sea views, marble bathrooms and terracotta floors. Each private bathroom offers a hairdryer and toiletries. Those who want to spend their honeymoon in Amalfi can book the Junior suite with a terrace and hot tub. 
The property has 2 restaurants. The largest one, La Locanda, offers a gourmet menu and Italian and Mediterranean cuisine. The menu includes also gluten-free options, for those searching for gluten-free restaurants in Amalfi. During summer the guests can enjoy breakfast on the panoramic terrace. Breakfast is buffet style.
Besides the infinity pool, the hotel has a gym and a wellness centre. The property features a whole section dedicated to meditation called "the meditation path" surrounded by nature.
Amalfi centre is a 5-minute walk away downhill, but there is also a free, regular shuttle ride to and from town.
Amazing pool hotels in Maiori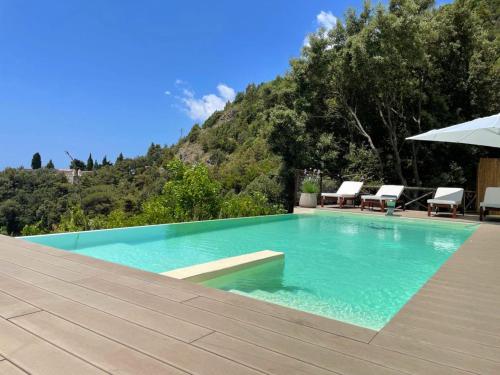 This time you should meet a private villa with an infinity pool on the Amalfi Coast: L'Olearia Luxury Country Villa. The private villa is located in Maiori, and the Cavallo Morto Beach is just a 4-minute away walking.
L'Olearia Luxury Country Villa in Amalfi Coast has 3 bedrooms, a private kitchen, 5 bathrooms and a dining area with a fireplace. Outside, you can relax in its lemon tree garden, use its grill facilities or just admire the breathtaking view from its seasonal outdoor swimming pool.
The villa offers also a sun terrace and a hot tub. If you come by car, it is good to know that private parking is offered at this location. This way, you can visit the Maiori Harbour, just 4.3 km away or Amalfi, just 8.7 km away.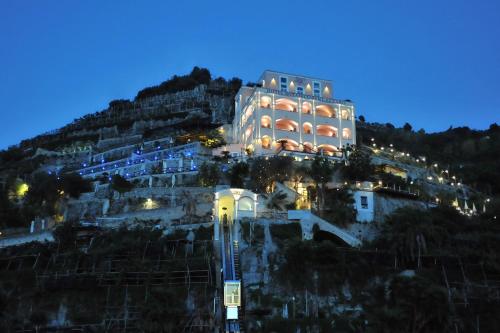 Hotel Botanico San Lazzaro is a 5* hotel in Maiori that welcomes its guests with a private beach with free deck chairs and sun loungers, a wellness centre and an outdoor infinity pool. Maiori is a small seaside town on the Amalfi coast closer to Salerno.
If you want to use the wellness centre, you will find here a sauna, sensory showers, outdoor and indoor relaxation area and a Turkish bath. Beauty treatments and massages are also available.
The suites and the rooms have a private garden, a terrace or a sea-view balcony. The restaurant on the property serves regional dishes and pizza, on the sea-view terrace.
The name of the hotel comes from its luxurious garden with cacti.
Those who want to spend their honeymoon in Maiori can book a suite with a private pool on the sea-view terrace.
Hotels with infinity pools in Ravello
Probably the most amazing infinity pool on Amalfi Coast is the one at the Caruso, a Belmond Hotel in Ravello. Set on a sea view, the hotel is in a renovated building from the 11th century. Its top feature is of course the pool. But once you get here, you will also like its terraced gardens, historic interiors with modern facilities and frescoed ceilings. The rooms offer views of the sea or the garden, with a private balcony for some of them.
They serve every morning an American breakfast and the property has 3 restaurants. The Belvedere Restaurant has traditional Italian specialities on the menu for lunch and dinner. You can spend your time here just swimming in the pool or visiting Ravello, but the hotel offers also a free shuttle to Amalfi and Positano.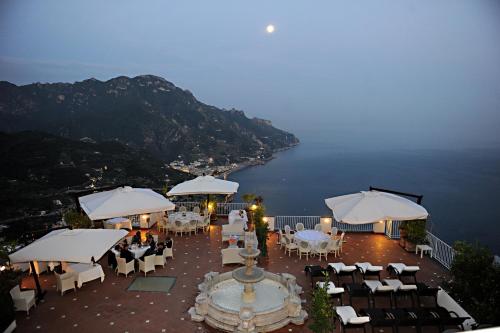 Located in the centre of Ravello, Hotel Villa Fraulo is set in a historical building, Hotel Villa Fraulo features an infinity pool with views over the Bay of Salerno. Each elegantly decorated room offers sea views from its balcony.
Right in the centre of Ravello, Hotel Villa Fraulo is housed in a quiet, historical building. Stone-faced walls and marbled interiors have been kept intact, while rooms offer satellite TV and free WiFi access. The suites have huge sea-view terraces.
Read also: Holiday in Puglia with kids
Local busses leave from close by Villa Fraulo. Staff at reception can hire bikes for you, or arrange a variety of tours, trips, and sports activities.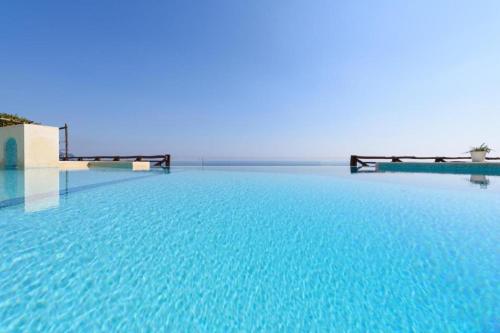 The Suite Principessa set in Ravello is an apartment with a sea view and access to an infinity pool overlooking the sea. That makes it a perfect choice for couples. The apartment has 1 bedroom and a fully equipped kitchenette. Its guests have access to the seasonal outdoor shared pool just crossing the street.
These are just some of the hotels with an infinity pool on the Amalfi Coast. Infinity pools are an amazing feature to enjoy in a hotel, especially if you can admire beautiful views. And the Amalfi Coast is known for its great scenery. So, on your next vacation here, you can spice your stay by choosing one of these hotels.
---